---
This article is user created. It has been created based on user submissions and the content may not reflect the game.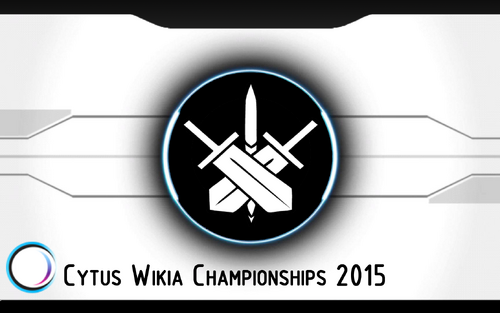 ORGANISERS: MRGZJCOOL AND COOKIESNWAFFLES
SUB-COMMITEE: WHEATYTRUFFLES AND DSZ9
BLOG: MrGZJcool - Cytus Wikia Champs 2015...
MrGZJcool - CWC2015 Update Blog 1
DATE: 13 TO 19 DECEMBER 2015
THE CWC HAS COME TO A CLOSE...
TEAM BLANK ARE THE CHAMPIONS!
TIME ZONE SCHEDULES
Edit
New Song Release on:

12pm (+8GMT)
4am (GMT) (UTC)
11pm the previous day (New York)
10pm the previous day (CT)
Any more time zones? Ask!
STATUS: SONG REVEAL!
Edit
THE HINTS
Edit
Day 1: Nature's Medicine (Bio is Nature, Tonic is Medicine.)
Day 2: You Are Welcomed (Parousia is an ancient Greek word meaning presence, arrival, or official visit.)
Day 3: Lack Of Companions (Loneliness.)
Day 4: Making It Clean (Purify)
Day 5: A Good Entrance (Gate = Entrance, Expectancy = Good)
Day 6: Leader Of All (Leader Of L, L2B)
Day 7: The Finale (Last song of Chapter M, Logo of CWC)
RULE 1
There will be 5 teams, and each team will have a certain amount of members. The amount of members' cost cannot exceed the Maximum Team Cost Count.

4 Player Team: 30 Cost
5 Player Team: 37 Cost
6 Player Team: 44 Cost
7 Player Team: 51 Cost
8 Player Team: 58 Cost
RULE 2
A player's cost is determined as so:

Tier 10: Never MM ever (1)
Tier 9: MM but less than Lv7 (2)
Tier 8: Max MM is Lv8 (3)
Tier 7: MM 1-3 Lv9s (4)
Tier 6: MM 4-20 Lv9s (5)
Tier 5: MM 21-45 Lv9s (6)
Tier 4: MM all but 10 Lv9s (7)
Tier 3: MM all but 5 Lv9s (8)
Tier 2: MM all but 3 Lv9s (9)
Tier 1: MM all (10)

If MM 5 or more songs from this list, auto Tier 5:
If MM 3 or more songs from this list, auto Tier 4:
If MM 1 or 2 songs from this list, auto Tier 3; If MM 3 or more songs from this list, auto Tier 2:

When you move up a tier rank, you will still stay that tier but the new promoted tier rank would be in a bracket.

Example, a player is Tier 6 and gives proof that he can be promoted to Tier 5. The tier would be 6(5).
RULE 3
You will need to have a Cytus Wikia account and a Twitter account.

You will also need to message MrGZJcool the twitter account and wikia account and tier level.
RULE 4
Points and TPoints are calculated as so:

An MM is worth 10 Points. Points are taken off from the first three digits of a Cytus Score.

e.g. 950,000 is 9.50 Points. 876,543 is 8.77Points. (Rounded up)

To determine the final team score of one song:

(Total Scores Of Everyone Added Together) divided by (number of people). e.g. 3 people in 1 team, 2 get MM, 1 get 850,000. Final Song Team Score will be 950,000. Points will be 9.50.

TPoints are calculated from the first three digits of a TP value.

e.g. 100TP is 10TPoints. 99.90TP is 9.99TPoints. 97.83TP is 9.78TPoints.

To determine the final TPoints team score of one song:

(Total TP of Everyone) divided by (number of people).

Each member is given 24 hours to post the score. If the member doesn't post, he/she is given 0 for both Points and TPoints.
NOTE: POINTS AND TPOINTS WILL NOT BE FINALIZED ON THE TEAM TABLES UNTIL AFTER COMPETITION ENDS. I WILL MAKE A NEWS BLOG.
POSTING RULE
STEP 1: Swipe from top to bottom to show the time and date (notifications for iOS, Android is simpler to show time and date). Screenshot it.
STEP 2: Tweet the score by tapping the tweet button.
STEP 3: Screenshot the score (without the tweet button) and send both the time and date photo and the score photo to twitter with the #cytuswikiachamps2015 hashtag.
8TH DAY RULE
An 8th day will be given for the competition. (20 December 12pm to 8pm +8GMT)
After the week of songs is finished, the 8th day will be used for any catch-ups. People who missed out on posting their score on a day are able to post it on the 8th day.
If a player does not post a score for more than 3 days straight, the 8th day will not be allowed to them.
People who already post a score for a particular day IS NOT ALLOWED to change their score with the 8th day.
THE CWC SONGS
Edit
PARTICIPANTS
Edit
Note:
Bold in Wikia Name means the wikian has been a wikian before CWC2015 Registration.
Bold in Nickname/Name means the wikian is a coach.
| Nickname/Name | Twitter | Wikia Name | Tier |
| --- | --- | --- | --- |
| CNW | @hxlimhxlim88 | CookiesNWaffles | 5 |
| GZJ | @ReignOM | MrGZJcool | 4 |
| Mentholzzz | @minicytus | Mentholzzz | 3 |
| JCEXE | @JCEXE_Cyath | JCEXE | 4 |
| Luna Flina | @luna_flina | Luna Flina | 5 |
| Kittenu | @layfon_k | Kittenu | 6 |
| Bimo | @BIM_CRNT | KsatriobimoCW | 1 |
| SofiaXY | @AvielP_SofiaXY | Aviel S.XY | 4 |
| SuperK2 | @SuperK2B | SuperK2 | 6 |
| Denny Chen | @Denny31415926 | Denny31415926 | 3 |
| Leoangelo P. Pua | @Leoangelo12 | Leoangelo12 | 3 |
| Westley Lai | @lwes0y | Lwes0y | 2 |
| Duc Anh Tran | @TranAnh1997 | Doc1997 | 1 |
| Lok Ma | @thebowofentranc | thebowofentrance | 3 |
| Simon Ngai | @tbtbtbbtbtbt | Simon Ngai666 | 1 |
| Ben Fischer | @Fischy2514 | Epicman2514 | 5 |
| Naschanassorn Promma | @Harconsarnan | Noo-Dhum | 4 |
| Caleb Lin | @lin_caleb | LcalebN | 5 |
| Eric Lau | @Adromis2013 | Lazlo™ | 6 |
| Matt Tam | @stewart242 | MattHam | 1 |
| Awsomw955 | @Awsomw955 | Awsomw955 | 4 |
| Tse Miko | @real_goyangi | mikotse | 4 |
| Vincent Sick | @vincentarogya | Vincentsick | 6 |
| Christopher Chris Chan | @DarthSagit | kururu_a99 | 6 |
| Duy Nguyen | @VNBAlex | VNBAlex | 3 |
| Agitha | @Agithaperincess | Agithatheprincess | 6 |
| Erick Kosasih | @Erick_kosasih99 | Ghostzero03 | 6 |
| FP2 | @ZhaJames | FleetwoodPink2 | 4 |
| LofeeZ | @Lofeezy12 | Lofeezy | 6 |
| Gmmmmman | @Gmmmmmman | Gmmmmman | 6 |
| Kiattipoom Rojvanakarn | @KenTa_CHan_TH | Pooh0669 | 5 |
| Liu Sam | @sam20608 | Sam2068 | 1 |
The Seven Poets (Bimo)
Edit
The Seven Poets
Member
Tier
Cost
Points
TPoints
Bimo
1
10
70
69.92
Mentholzzz
3
8
69.91
68.10
Denny Chen
3
8
69.16
68.80
JCEXE
4
7
68.70
68.54
Naschanassorn Promma
4
7
68.69
68.86
Kittenu
6
5
65.00
60.92
Agitha
6
5
65.97
65.64
The Vengeance Of The #SwagGlasses (Duc)
Edit
The Vengeance Of The #SwagGlasses
Member
Tier
Cost
Points
TPoints
Duc Anh Tran
1
10
70
69.94
Duy Nguyen
3
8
69.22
69.27
GZJ
4
7
67.69
68.16
FP2
4
7
69.04
67.24
CNW
5
6
68.51
68.03
Erick Kosasih
6
5
66.69
66.85
Eric Lau
6
5
66.44
66.20
Blank: Counter-attack of MH (Matt)
Edit
Blank: Counter-attack of MH
Member
Tier
Cost
Points
TPoints
Matt Tam
1
10
70
70
Liu Sam
1
10
70
69.85
Tse Miko
4
7
69.62
69.33
SofiaXY
4
7
67.81
68.29
Christopher Chris Chan
6
5
66.72
68.02
LofeeZ
6
5
65.58
64.65
TPurified (Simon)
Edit
TPurified
Member
Tier
Cost
Points
TPoints
Simon Ngai
1
10
70
69.96
Lok Ma
3
8
69.80
69.53
Leoangelo P. Pua
3
8
69.02
68.82
Awsomw955
4
7
69.95
68.58
Kiattipoom Rojvanakarn
5
6
67.17
67.65
SuperK2
6
5
64.07
64.79
HS4us (Westley)
Edit
HS4us
Member
Tier
Cost
Points
TPoints
Westley Lai
2
9
69.99
69.71
Ben Fischer
5
6
67.07
66.77
Luna Flina
5
6
66.41
67.45
Caleb Lin
5
6
68.70
68.85
Gmmmmman
6
5
66.94
66.59
Vincent Sick
6
5
66.93
67.74
SCOREBOARDS
Edit
Team Scoreboard
Edit
TEAM OVERALL
Team
Points
TPoints
Poets
9.75
9.61
SwagGlasses
9.75
9.71
Blank
9.76
9.76
TPurified
9.76
9.75
HS4Us
9.67
9.69
Overall Scoreboard
Edit
OVERALL
Member
Points
TPoints
Bimo
70
69.92
Mentholzzz
69.91
68.10
Denny Chen
69.16
68.80
JCEXE
68.70
68.54
Naschanassorn Promma
68.69
68.86
Kittenu
65.00
60.92
Agitha
65.97
65.64
Duc Anh Tran
70
69.94
Duy Nguyen
69.22
69.27
GZJ
67.69
68.16
FP2
69.04
67.24
CNW
68.51
68.03
Erick Kosasih
66.69
66.85
Eric Lau
66.44
66.20
Matt Tam
70
70
Liu Sam
70
69.85
Tse Miko
69.62
69.33
SofiaXY
67.81
68.29
Christopher Chris Chan
66.72
68.02
LofeeZ
65.58
64.65
Simon Ngai
70
69.96
Lok Ma
69.80
69.53
Leoangelo P. Pua
69.02
68.82
Awsomw955
69.95
68.58
Kiattipoom Rojvanakarn
67.17
67.65
SuperK2
64.07
64.79
Westley Lai
69.99
69.71
Ben Fischer
67.07
66.77
Luna Flina
66.41
67.45
Caleb Lin
68.70
68.85
Gmmmmman
66.94
66.59
Vincent Sick
66.93
67.74
Individual Scoreboards
Edit
POINTS LEADERBOARD
Rank
Member
Points
1
Bimo
70
1
Duc Anh Tran
70
1
Simon Ngai
70
1
Matt Tam
70
1
Liu Sam
70
TPOINTS LEADERBOARD
Rank
Member
TPoints
1
Matt Tam
70
2
Simon Ngai
69.96
3
Duc Anh Tran
69.94
4
Bimo
69.92
5
Liu Sam
69.85