Chapter 7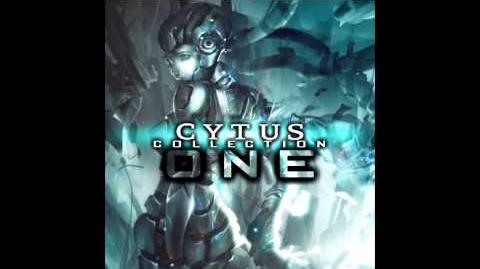 (At the end of the song)
Try to find it in the darkness,
I will survive by the twilight.
Angel's sing is surrounding me,
The song, told that is divine.
Burning my blood, draw the weapons,
Capture the light in my mind.
The holy war will arrive,
Mighty warriors will arise.
LIGHT, we'll SEE, the glory in the sky.
Catching the power from the light.
DARK, will LEAVE, iniquity of the night.
Devils will all die.

Difficulty Changelog
Edit
| Version | Easy | Hard |
| --- | --- | --- |
| 4.0 | 4 | 8 |
| 4.5 | 5 | 8 |
Note Statistics
Edit
Click notes

527 on Easy (98.50%), 780 on Hard (97.26%)

Hold notes

8 on Easy (1.50%), 2 on Hard (0.21%)

Drag notes

0 on Easy (0.00%), 172 on Hard (18.03%)
Among all Lv. 8 songs in Cytus, this song has the most notes (excluding Cytus Alive).

This song also has the most notes among all non-Lv. 9 songs (excluding Cytus Alive).

This is also the only song in which the scan line changes its speed (as well as the gradient metronome).
Helpful Info
Edit
"
Very solemn! If you guys have noticed, the first half of the song is of 222.22BPM, exactly the same as Freedom Dive. Then, the tempo changes. You'll have to be careful of the change and the >-shaped drag + click notes can break the combo. The ending is pretty simple for a Level 8 though.
"
 

— CookiesNWaffles
"
The notes add, but the front is the only hard part.
"
 

— DropletKloud
"
This song is very fast for a level 8. It doesn't have much complex note placement but the speed itself makes it hard enough...
"
 

— SerialNo30000324
"
At first, It was easy, so you have more time to prepare until the violin part ends.
"
 

— SuperK2
Ad blocker interference detected!
Wikia is a free-to-use site that makes money from advertising. We have a modified experience for viewers using ad blockers

Wikia is not accessible if you've made further modifications. Remove the custom ad blocker rule(s) and the page will load as expected.