Chapter L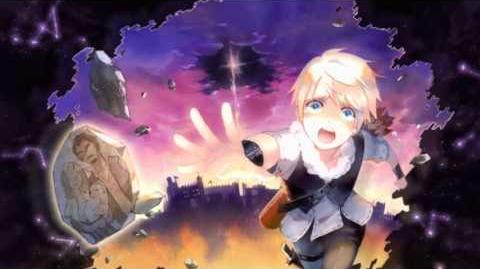 This song is entitled "Loneliness" on the song selection.
To access the old chart, tap the script "L" that will briefly flash in the cover art shown below:
Difficulty Change log
Edit
| Version | Easy | Hard |
| --- | --- | --- |
| 9.0 | 9 | 9 |
| 9.1 | 8 | 9 |
Viz, when hiding inside Meteor's soul, finally broke free, and kept a means of contact with him. The force that waited for so long (Viz) appeared in the shape of a phoenix in front of Meteo's eyes.
Note Statistics
Edit
Click notes

786 on Easy (65.45%), 990 on Hard (54.97%)

Hold notes

142 on Easy (11.82%), 133 on Hard (7.38%)

Drag notes

273 on Easy (22.73%), 678 on Hard (37.65%)
Click notes

938 on Easy (54.50%), 1141 on Hard (60.02%)

Hold notes

124 on Easy (7.21%), 161 on Hard (8.47%)

Drag notes

659 on Easy (38.29%), 599 on Hard (31.51%)
This song is an orchestral remix of the Triumphal Return album version of L, L from Chapter 7 and L2 ~Ascension~ (Act 2) in Chapter 7.[1]
A cut version of this song can be found in Deemo, another one of Rayark's games.
On the old Hard chart, a group of drag notes spells out "L1". The same pattern happens in the Easy old chart at the same time.
The font of the script "L" is Old English Text MT.
Ad blocker interference detected!
Wikia is a free-to-use site that makes money from advertising. We have a modified experience for viewers using ad blockers

Wikia is not accessible if you've made further modifications. Remove the custom ad blocker rule(s) and the page will load as expected.