Chapter L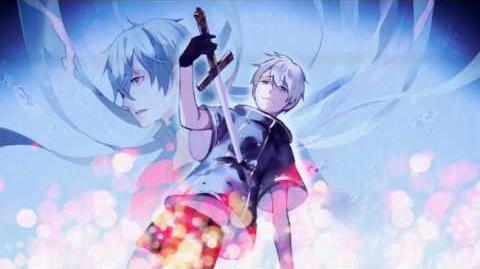 This song is entitled "Lament" on the song selection.
This song will be unlocked after clearing all of the songs from L-1 to L-8 in Chapter L.

Some players claimed that this song can be unlocked by clearing only one song in the chapter due to a glitch. However, it's unconfirmed.

This is the only song (as of 9.0) to have a 4-fingered hold.
To access the old chart, tap the script "L" that will briefly flash in the cover art shown below:
Difficulty Change log
Edit
| Version | Easy | Hard |
| --- | --- | --- |
| 9.0 | 9 | 9 |
| 9.1 | 6 | 9 |
Note Statistics
Edit
Click notes

916 on Easy (71.62%), 1163 on Hard (70.10%)

Hold notes

56 on Easy (4.38%), 73 on Hard (4.40%)

Drag notes

307 on Easy (24.00%), 423 on Hard (25.50%)
A cut version of this song (which stops right after the climax) can be found in Deemo, another one of Rayark's games.

At the start of the new chart, around combo 250, a set of drag notes and a hold note form an IX (The Roman numeral for 9).
At the end of the new chart, 2 hold notes start at the same spot on different scan line movements to create a sword-like visual, and this repeats 4 times. These notes also sync up to a very long violin note that would be impossible to chart on a single movement.
In the old chart, near the climax, A zig-zag of many drag notes overlap a long hold note. The drag notes shape a heart, and the hold note resembles the sword that's pierced the heart of the character in the cover art. This pattern also closely resembles an upside-down version of the cycon for L10: In Memory of Maneo.
Ad blocker interference detected!
Wikia is a free-to-use site that makes money from advertising. We have a modified experience for viewers using ad blockers

Wikia is not accessible if you've made further modifications. Remove the custom ad blocker rule(s) and the page will load as expected.