Chapter K
Previous


Where You Are Not

Music. The Eternity of Us
Next


The Way We Were

Icon
Artist
Mai Aoyagi
Genre
No Info

Vocal
Mai Aoyagi
Cover Art
DD
Chart Design
No Info
Number
K-10
Difficulty
Max Combo
Length
3:01
Easy
2
256
BPM
105.2
Hard
7
457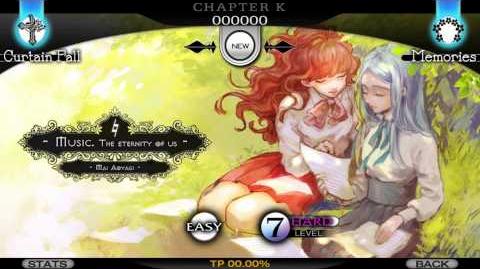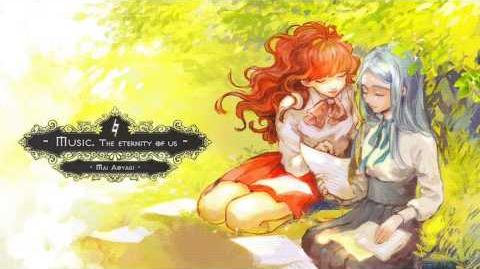 This song is entitled "Alternative" on the song selection. This and the cover art tell that the song depicts what is believed to be an alternate ending to the story, with Iris and Rosabel staying as friends.
This song will only be unlocked after clearing Where You Are Not on either difficulty.
Difficulty Change log
Edit
| Version | Easy | Hard |
| --- | --- | --- |
| 6.0 | 2 | 7 |
Note Statistics
Edit
Click notes

194 on Easy (75.78%), 418 on Hard (91.47%)

Hold notes

30 on Easy (11.72%), 33 on Hard (7.22%)

Drag notes

32 on Easy (12.50%), 6 on Hard (1.31%)

10年前の自分の思い描いてた
先の未来の自分と少し違うけど
道を探して 日に照らされ月を見上げて
辿りついた場所 今 悪くないね
大好きで大好きで 重なり合うミュージック
嬉しくて嬉しくて 顔もにやけちゃうよ
焼き付けて焼き付けて 目に映る景色を
ずっとずっと 歌うように 揺れて

大好きで大好きで 伝えたくなるよ
愛しくて愛しくて つかず・はなれずの距離
かみしめてかみしめて 過ぎ行くこの時を
ずっとずっと 歌うように 揺れて
大好きで大好きで
愛しくて愛しくて


Junen mae no jibun mo omoi egaiteta
Saki no mirai no jibun to sukoshi chigau kedo
Michi wo sagashite hi ni terasare tsuki wo miagete
Tadori tsuita basho ima warukunai ne
Daisukide daisukide kasanariau MUSIC
Ureshikute ureshikute kao mo niyake chau yo
Yakitsukete yakitsukete me niutsuru keshiki o
Zutto zutto utau youni yurete

Daisukide daisukide tsutaetaku naru yo
Itoshikute itoshikute tsuka no HARMONIOUS no kyori
Kamishimete kamishimete sugiyuku kono toki wo
Zutto zutto utau youni yurete
Daisukide daisukide
Itoshikute itoshikute
Soba ni ite


10 years ago I was myself of not envisioned
Slightly different but with their previous future
Look up at the moon is illuminated by the day looking for the road
It is not bad to follow with location now
Music overlap in love love a
Would you happy also face Effeminate is pleased
The the eyes scenery by baking in baking
The sway much as sing much

You'll want tell I love I love the
And dear to you dear if the distance of not accustomed Tsukazu -
The bite is the bite is to go pass this time
The sway much as sing much
I love I love
And dear to by dear

This is the longest song in Chapter K.
This song's name sometimes is shortened to Music.
Helpful Info
Edit
"
Its a slow song, but pleasant to the ear and upbeat Vocals make up for it. I had wished that this was the actual ending though. Slow scan line.
"
 

— CookiesNWaffles
"
An easy level 7, with beautiful music, mesmerizing vocals, and a heart-touching ending.
"
 

— DropletKloud
Ad blocker interference detected!
Wikia is a free-to-use site that makes money from advertising. We have a modified experience for viewers using ad blockers

Wikia is not accessible if you've made further modifications. Remove the custom ad blocker rule(s) and the page will load as expected.