Chapter 9
Previous


First Gate Overdrive

Qualia
Next


East West Wobble

Icon
Artist
KIVΛ
Genre
Drumstep

Vocal
N/A
Cover Art
KIVΛ
Chart Design
No Info
Number
9-5
Difficulty
Max Combo
Length
2:24
Easy
4
427
BPM
160
Hard
7
665
Difficulty Change log
Edit
| Version | Easy | Hard |
| --- | --- | --- |
| 5.0 | 4 | 7 |
Note Statistics
Edit
Click notes

322 on Easy (75.41%), 512 on Hard (76.99%)

Hold notes

34 on Easy (7.96%), 19 on Hard (2.86%)

Drag notes

71 on Easy (16.63%), 134 on Hard (20.15%)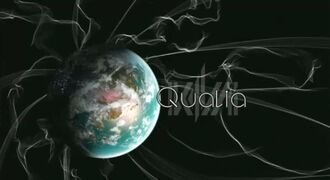 When viewed in negative colors, the sphere in the cover art looks a lot like Earth, except that the middle of the Earth is red as if the world is heating up. The negative-black background makes it looks similar to outer space as well.
This is KIVΛ's first song in Cytus.
A full version is available on Soundcloud.
"Qualia" is a latin word and a term in philosophy which refers to mental states like headaches and seeing red instead of blue, which describes why the Earth in the artwork has a red atmosphere.
Helpful Info
Edit
"
Hard drag note patterns and timing make up for this song.
"
 

— CookiesNWaffles
"
My favorite song from KIVΛ, my favorite part is the long, curving slider in the middle.
"
 

— CBeatricia
"
Wait.... Is this song warning us about global warming?

quickly goes to save electricity*

"
 

— SerialNo30000324
"
This is not hard, but the drag notes are a little bit hard, this is KIV/\, this is drumstep
"
 

— Xdlolkawaii
"
Amazing song, tricky drags and alternating double notes. A recipe for fun!
"
 

— DropletKloud
"
Nice one, those zigzag drags and that final double note is little hard!
"
 

— Mentholzzz
"
You could find this one tricky with the double taps and the short drags, but you'll enjoy both the song and the chart anyway.
"
 

— Sakusam
"
I like the song, but when you play this, it's very tricky so all you need is your high focuses on the double taps and short drags which make you lose the combo. So you have to be aware of these.
"
 

— Zachary Llanos
Ad blocker interference detected!
Wikia is a free-to-use site that makes money from advertising. We have a modified experience for viewers using ad blockers

Wikia is not accessible if you've made further modifications. Remove the custom ad blocker rule(s) and the page will load as expected.