Chapter 2
Previous


Iris

Sanctity
Next


Sacred

Icon
Artist
Rabpit
Genre
No Info

Vocal
N/A
Cover Art
YokaDZ
Chart Design
No Info
Number
2-2
Difficulty
Max Combo
Length
2:03
Easy
5
299
BPM
143
Hard
7
411
Difficulty Changelog
Edit
| Version | Easy | Hard |
| --- | --- | --- |
| 1.0(Old Chart) | 4 | 9 |
| 1.2(Old Chart) | 4 | 7 |
| 3.0(New Chart) | 4 | 7 |
| 4.5(New Chart) | 5 | 7 |
Note Statistics
Edit
Click notes

210 on Easy (70.23%), 289 on Hard (70.32%)

Hold notes

61 on Easy (20.40%), 94 on Hard (22.87%)

Drag notes

28 on Easy (9.37%), 28 on Hard (6.81%)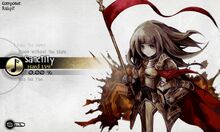 This is one of the 26 songs that have made it into another one of Rayark Inc.'s games, Deemo.
This is Rabpit's first song in Cytus.
The warrior from the cover art appears in the artwork of The Sacred Story and VitMaster.
Along with Sacred, Saika, Holy Knight, Colorful Skies and Bloody Purity, this song appears in the arcade rhythm game, Mozarc.
This is one of the songs to add in VOEZ 1.1.
Helpful Info
Edit
"
FGO's QuickRun:

You thought Visions had many hold notes? Watch this. Slipping your finger too early will cause some mishaps, so make sure you time your fingers on those hold notes. Oh, and watch out for those drags, they come from south east to north west. Well, not all the time. I'm trying to say that they are long and wide, so beware.

"
 

— MrGZJcool
"
Emotions were well embedded in the song and gameplay. (My EQ being high, I almost cried when playing this one) In the chart, it was made obvious that this one was a hard level 7, through the holds and double holds. A great starter song as mentioned by SkyEagle.
"
 

— CookiesNWaffles
"
This song was the first song I mastered on Easy. Why? It's because I loved the song so much that I kept playing it over and over. It was my favorite song during my nooby days. Beware of the hold notes on hard, it is quite tricky to get those right.
"
 

— SerialNo30000324
"
Oh no, the infantry is coming. Who commited the act of treason this time? This song is incredible.
"
 

— DropletKloud
"
Truffly Tips:

For the hold notes, either train your reflexes so that you can go from hold note to hold note without losing TP/score, or use two fingers to keep them both down. Once you gotten them down, your main worry should be the click notes.
Study the chart; those click notes aren't always located at the ends of the hold notes! There are times when you're supposed to be hitting the click and hold notes at the same time.
The occasional drags in this song go from corner to corner of the screen, so make sure you drag them all the way!

"
 

— WheatyTruffles
Ad blocker interference detected!
Wikia is a free-to-use site that makes money from advertising. We have a modified experience for viewers using ad blockers

Wikia is not accessible if you've made further modifications. Remove the custom ad blocker rule(s) and the page will load as expected.